Visions for the Future
Teach Less,
Learn More.
From teacher-centered classes to those which encourage independent learning
Our educational environment helps nurture the development of students who will play active roles in society in the future. Through employing innovative approaches which respect history and tradition and which also fully utilize current technology and ICT in all classrooms, students can take the initiative in their approach to learning based on their own interests and passions.
TRADITION
Our founding spirit,
maintained since 1907
School Motto

Self-awareness
The concept of autonomy is based on self-observation, an awareness of and an appreciation for the various blessings in life, and the ability to reason, judge and act independently.

An Awareness of Others
The concept of peace is based on the idea that a peaceful world is only achieved when people gain awareness and acceptance of all the other things around them and show respect for one another.

An Awareness of Life
The concept of gratitude is born out of an awareness of and appreciation for the infinite connections in life, a thankfulness for its great blessings, and the desire throughout life to give something back.
An Awareness of infinite life
Chikushi Jogakuen promotes a humanistic education based on Buddhist wisdom revealed by the Shinran Shonin teachings of the Jodo Shinshu sect. The school's concepts of self-awareness, peace and gratitude express this spirit.
Education that is centered on the intellectual and mental development of girls has been offered at this school for more than a century. Here, the focus is primarily on character-building with an aim to foster in students an acceptance of diverse values and opinions, and an ability to move through life with self-awareness and confidence. Our Buddhist teachings help to produce individuals that demonstrate mental versatility and the wisdom to live and innovate with courage and pride.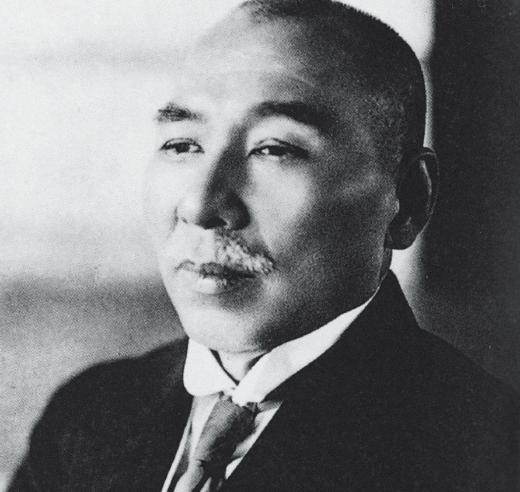 Founder Tetsuei Mizuki
Entered The University of Tokyo from the old Fifth High School where he studied Chinese Classics.
Tetsuei Mizuki and Female Education
The school's founder, Tetsuei Mizuki, went to the United States in 1900 as a missionary of the Jodo Shinshu Honganji Buddhist sect. While there, he observed a huge disparity between Japanese and American women in terms of knowledge, general abilities and education. He became keenly aware of the importance of empowering girls through education and developed a deep sense of responsibility to help improve the educational environment for girls and help raise their literacy and status.

After returning to Japan in 1907, Mizuki established Chikushi Girls High School in Fukuoka.

Today, more than a century later, Chikushi Jogakuen continues to produce women who play active roles in society, through its commitment to female education with a focus on character-building and academic development.
INNOVATION
Mirai

Creation Program
Curiosity-based learning.
The desire for knowledge is the first step towards successful learning.
The school aims to sow seeds of ambition that will stimulate curiosity and help students develop the ability to learn independently.
Curiosity and the desire to know more are the driving forces that motivate students. When students continue to learn about their interests with a sense of excitement it creates a cycle of academic achievement and inquiry. A thirst for knowledge in students' areas of interest stimulates independent learning that further deepens curiosity. We believe this cycle creates self-sufficient learners and helps foster academic excellence.
Integrating the "STEAM" education concept into this cycle of curiosity-inquiry and into teaching practices too, produces graduates who have the ability to problem-solve from a broad perspective, and who can also think logically and develop new sets of values.
Drawing out students' true abilities for the future
The Mirai (future) Creation Program helps develop the human resources needed for the future.
To support the cycle of academic achievement and curiosity which spawns independent learning, the school supports students' competencies through a rigorous education program in ICT, English, art, liberal arts, as well as in global education and emotional development.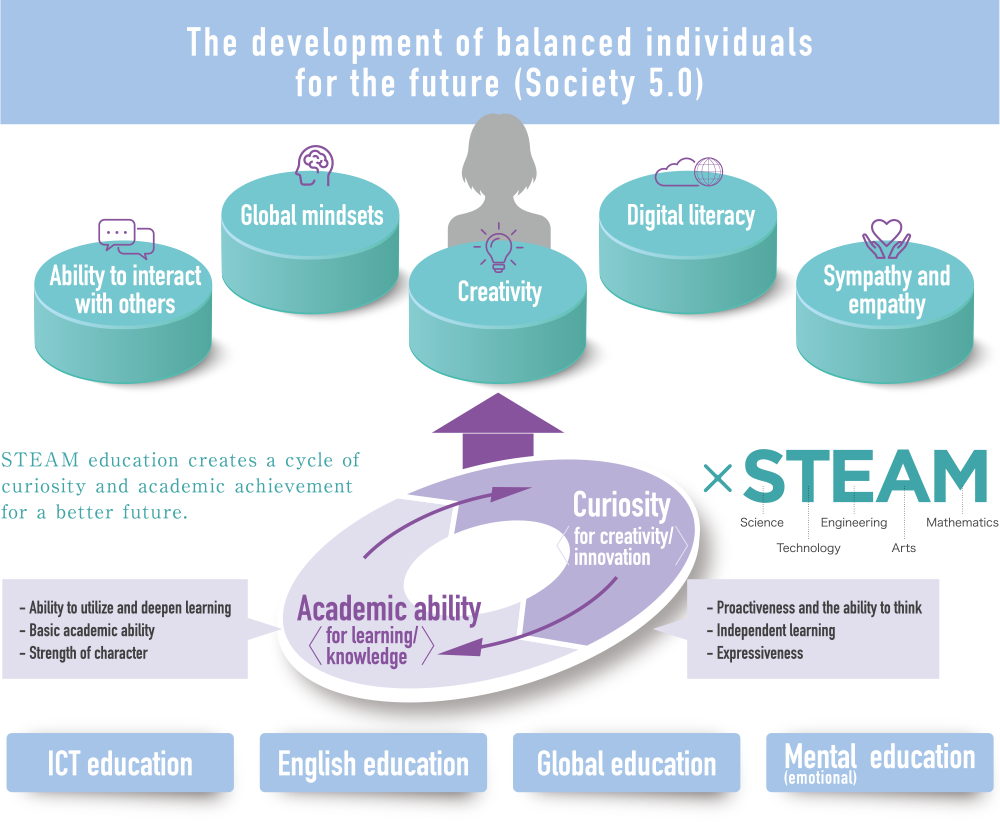 Click here for details on the Mirai Creation Program.
A word from the principal
Female-centered education with a focus on both tradition and innovation takes student development to a whole new level.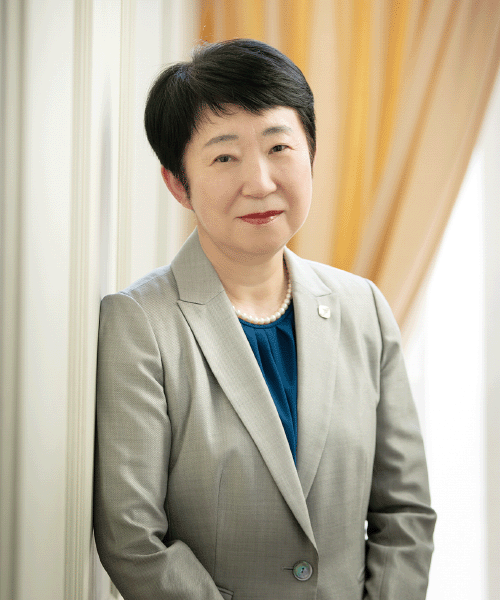 Keiko Matsuo
Principal
Chikushi Jogakuen Junior & Senior High School
Assigned to her alma mater after serving as the principal of Chikushigaoka High School and director of the Fukuoka Prefectural Office of Education. Received the 2017 Educator Award (Minister of Education, Culture, Sports, Science and Technology) in recognition of achievements in the field. Recognized as a role model for gender equality by the Fukuoka prefectural administration.
Tetsuei Mizuki – the founder and first principal of Chikushi Jogakuen – dedicated himself to female education to improve the status and lifestyles of women in Japan. Since the school's foundation in 1907, it has followed a mission of promoting women's independence and has consistently produced graduates who make a difference and live by their own values. The many notable achievements of our graduates who are ahead of their time are a source of great pride, courage and confidence for all of us.

The school's focus extends far beyond simple academic achievement.
Chikushi Jogakuen strives to embrace both the past and the present with a focus on optimal education, allowing students to handle today's quickly changing times while boldly pursuing reform and improvement.
The current dramatic advancement in AI technology and the rapid depopulation here in Japan present major challenges that require students to be equipped with intelligence, creativity and an ability to interact with others. In addition, they should also show consideration, demonstrate good judgment and use their own initiative, while having a well-balanced and well-rounded character with an acceptance of diversity in all its forms.

To reach these goals, the school follows a concept of "Teach Less, Learn More". This changes the classroom from a teacher-centered environment to one in which students learn and consider ideas independently, with only a limited number of compulsory subjects offered. Importance is placed on students being motivated in their particular areas of interest and on them taking the initiative to learn about what they find interesting. This is done by promoting interaction and stimulation through an array of worldwide learning resources available via ICT.

In addition to classroom learning, emphasis is also placed on inquiry-focused activities where students travel to actual sites, experience the current state of different issues and learn from people who address these challenges in adult life. We believe that in this way, by continuing to learn about their fields of interest outside of the classroom, students' sense of ambition and mental stimulation is heightened.
Our school supports a variety of student activities that sow seeds of ambition to encourage students to learn independently in order to achieve their goals.

More than ever, female perspectives and ideas are indispensable in today's societies. They are particularly essential for innovation and global development as the world continues to face a number of challenges.
As a girls' school, we aim to provide an education that successfully imparts the abilities and creativity needed to produce a peaceful and amicable world for all. We provide ongoing support to students in their pursuit of such societal transformation.
Give your kids the gift of an education at Chikushi Jogakuen Junior & Senior High School, where tradition blends with innovation.
About Fukuoka
A favorable location in the heart of Kyushu
Chikushi Jogakuen is located in Fukuoka – a prefectural capital in the northern part of Japan's Kyushu island. The city represents a gateway to Asia and attracts people from all over the nation.
The downtown Tenjin area is within walking distance and the surrounding area is known for its rich natural environment, creating a pleasant and easily accessible location for students.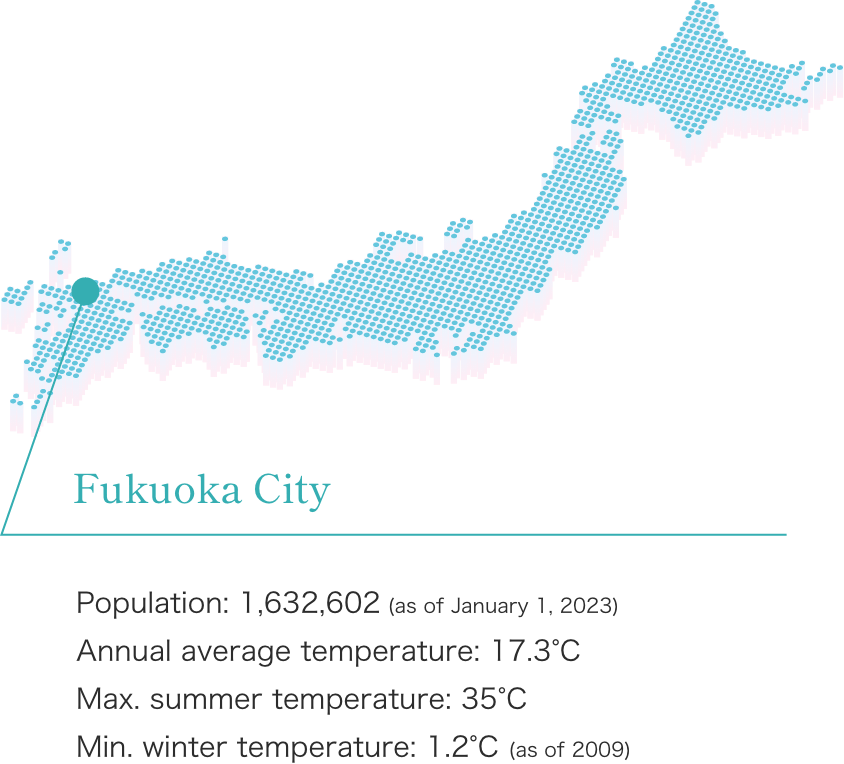 Top nationwide in a destination survey for visitors to Japan from China, Korea and Taiwan

*1

Top nationwide in the number of passengers boarding and disembarking from overseas

*2

Top among Japanese cities in terms of the ratio of young people

*3

Top among Japanese cities in terms of international conference members

*4

Top among 20 major cities in terms of low food prices

*5

Second in Asia in the MONOCLE most-livable city ranking

*6
*1. Source: Destination Satisfaction Survey for Travelers to Japan (2011) (Jalan Research Center)
*2. Source: Airport Management Status, Ministry of Land, Infrastructure, Transport and Tourism
*3. Source: National Census (2010)
*4. Source: Japan National Tourism Organization (JNTO) press release (September 29, 2015)
*5. Source: Retail Price Survey (trend edition) (Ministry of Internal Affairs and Communications) 10, 2009 Coast Statistics New Seaside Master Plan (Kitakyushu Port)
*6. Source: MONOCLE (July/August, 2015)
Click here for more information on Fukuoka.
Fukuoka City official website

School features/educational goals
A combined six-year junior/senior-high course
for optimal academic performance
A three-year senior-high course for focused learning
The integrated junior/senior-high course nurtures in students the mental and academic competencies needed to meet the challenges of the coming era by offering a fulfilling and efficient learning curriculum. With no break in the curriculum for high school entrance exams, students here make the most of all six years, devoting time and energy to developing sound academic abilities and a core enthusiasm for considering and solving problems independently. Classes are organized based on proficiency levels from the first year of junior high onward to ensure optimal learning and examination performance, and to best serve the academic needs of all students.

The three-year senior-high course places an emphasis on helping students to realize their future aspirations right from the time of first enrollment. The Medical & Science Prep Course provides an environment in which students share a common goal of self-improvement through mutual learning. Yearly class progress is based on students' own goals rather than simply on academic achievement or proficiency levels. From the second year onwards, students take either an entry course for national/public universities (arts/sciences), or one for private universities (arts/sciences). Classes are organized according to a comprehensive assessment of the goals and academic achievements of each student.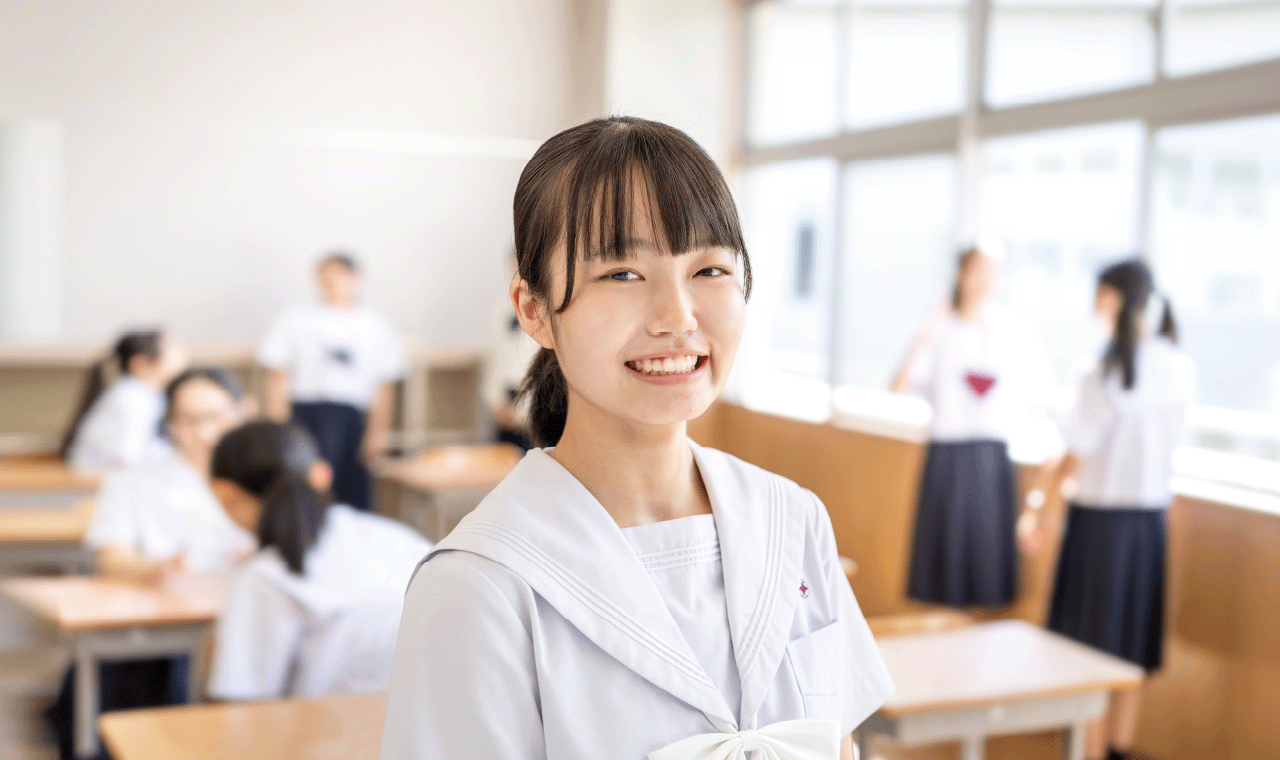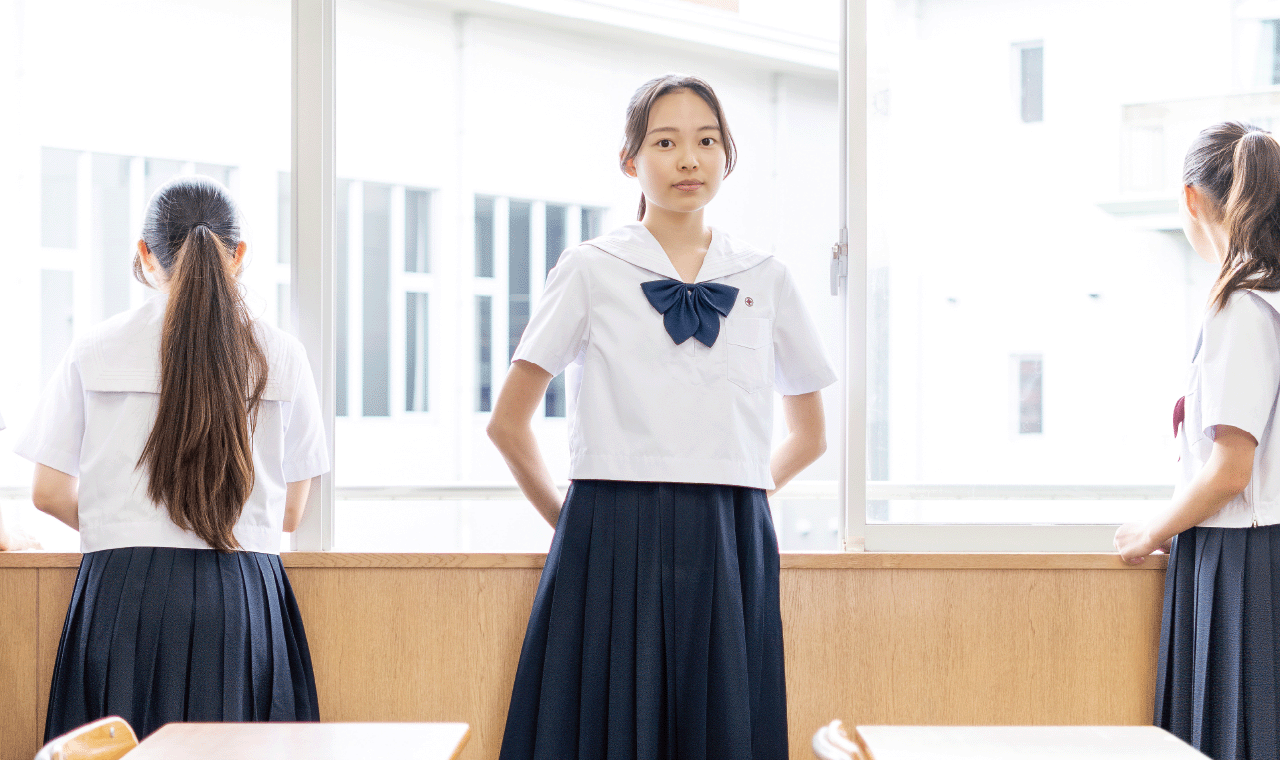 Medical & Science Preparatory Course
For students aspiring to careers in medicine and science
Affiliation with various universities
The Medical & Science Prep Course is affiliated with various universities, and provides direct learning opportunities with feedback from faculty members and researchers. The course aims to develop students' ability to conduct scientific research with an ongoing hypothesis verification process that assists students with their scientific reasoning and with explaining/presenting results logically based on current research standards.
Major affiliated universities
School of Medicine/School of Science, Kyushu University
Faculty of Medicine/Faculty of Pharmaceutical Sciences/Faculty of Science, Fukuoka University
School of Computer Science and Systems Engineering, Kyushu Institute of Technology
Faculty of Medicine, Kurume University
Fukuoka Dental College
Fukuoka Nursing College
Shibaura Institute of Technology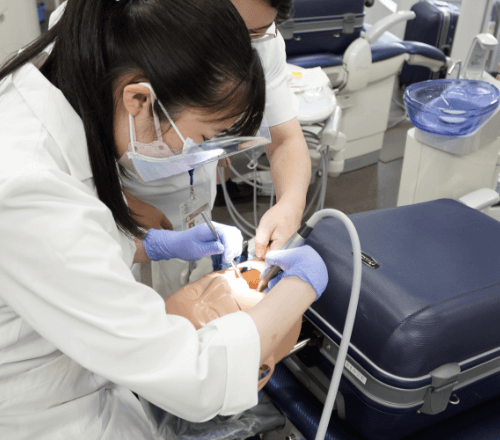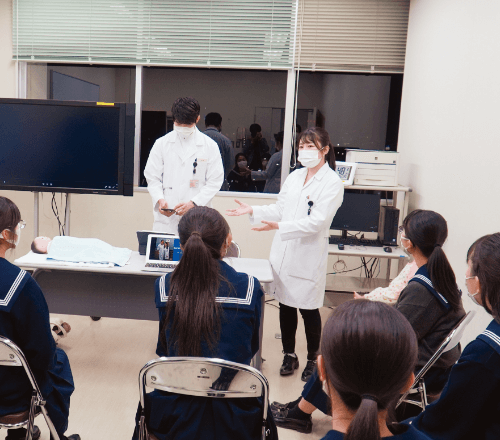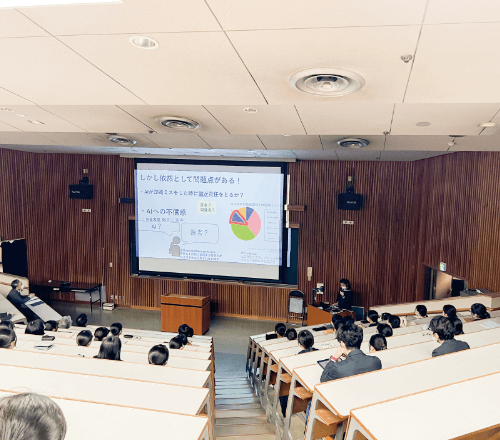 For students aiming to enter exclusive national/public universities
This course features Medical Prep, Science and National/Arts S modules for those aiming to study at more prestigious universities.
For students aiming to enter private universities
This course aims to prepare students for admission to private universities with a curriculum tailored to students' specific goals and aspirations.
A variety of courses offered based on a comprehensive assessment of each individual's aspirations and proficiency level.
Course organization table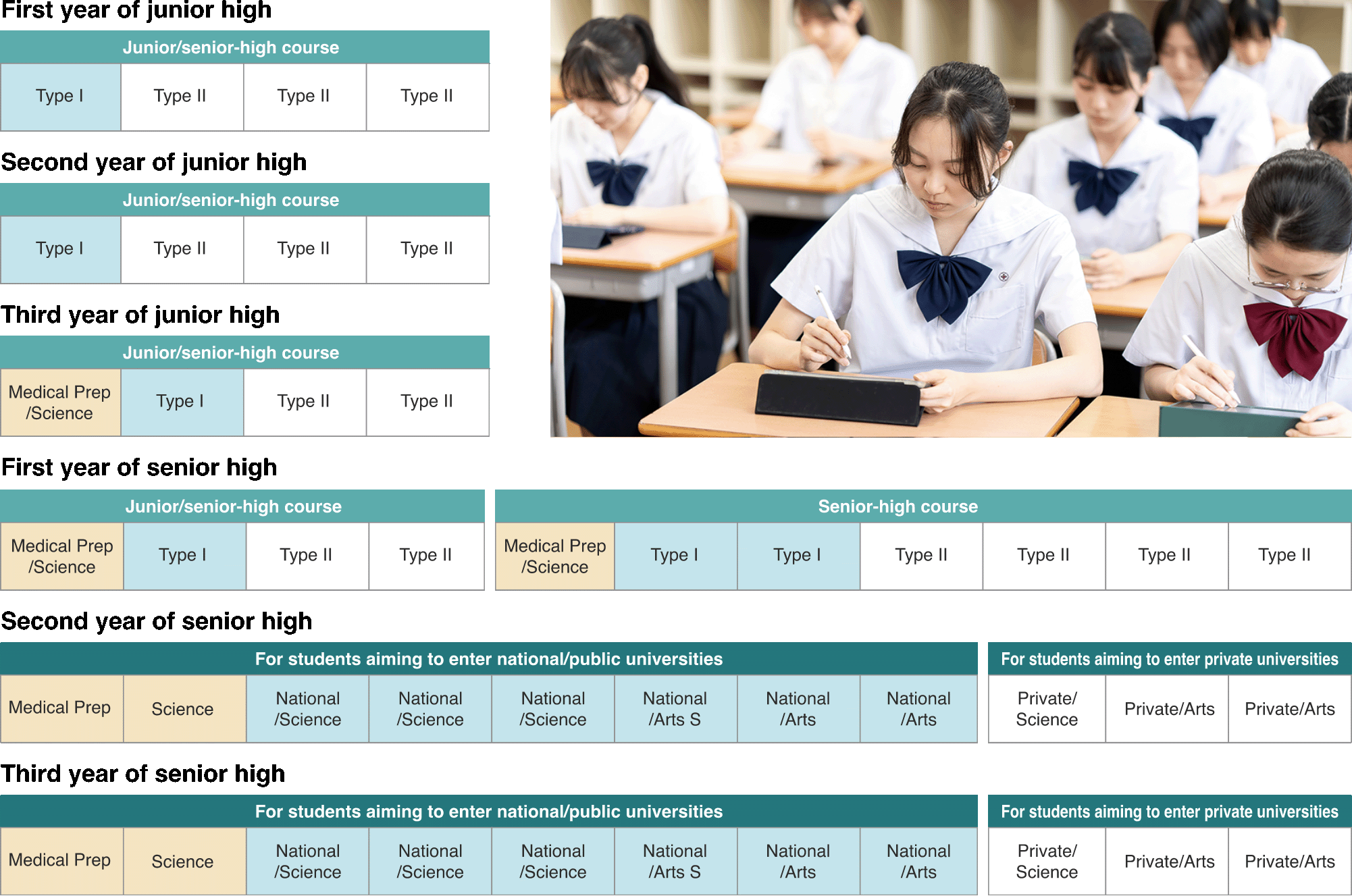 In 2023, 170 students passed the entrance exams for medical, dental, pharmaceutical, veterinary and nursing departments.
Click here for details on the entrance exam results.

Annual events
Chikushi Jogakuen runs various events and learning opportunities over its two terms
(April – September, October – March).
Sports Day, the cultural festival and many other events throughout the year are created, organized and run by students.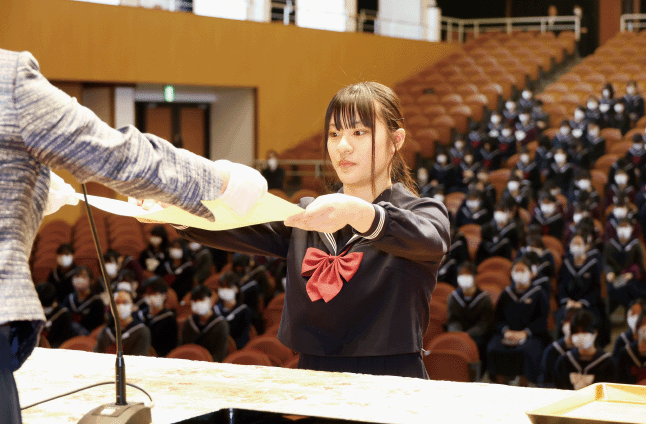 Entrance ceremony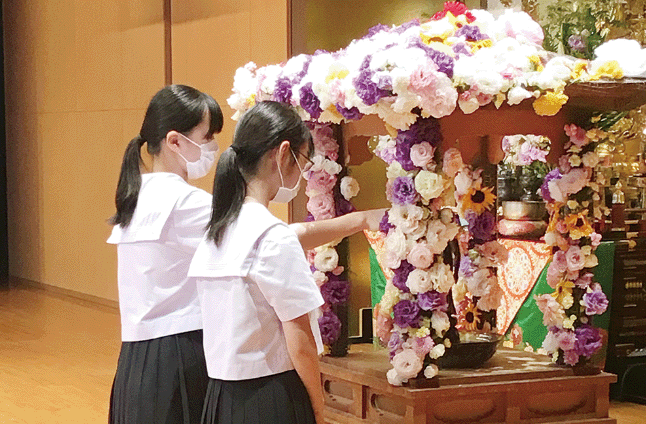 Flower festival/
Founder's birthday party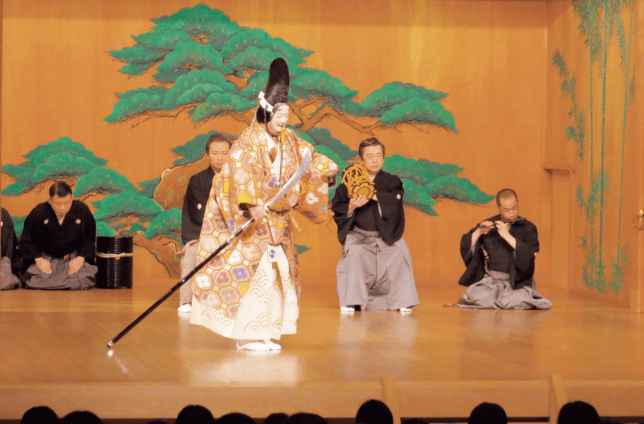 Noh performance viewing
(second year of senior high)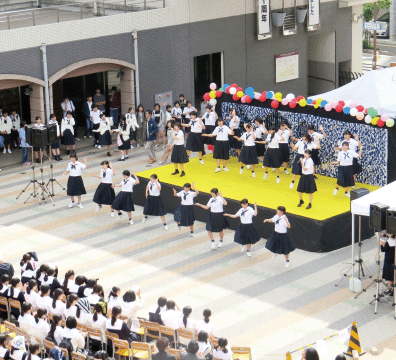 School festival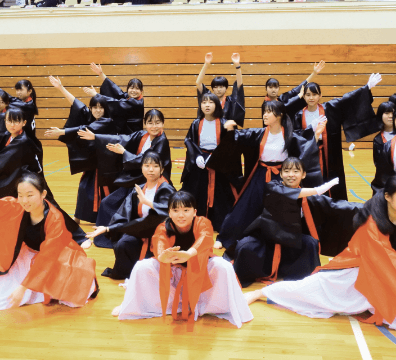 Sports day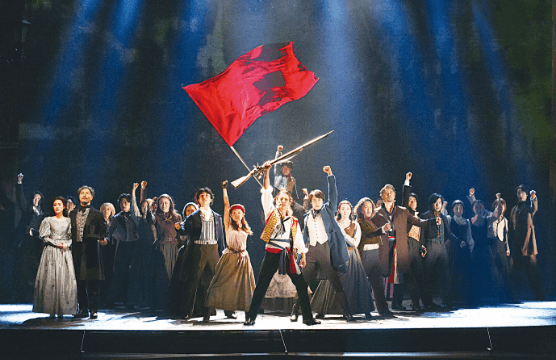 Art viewing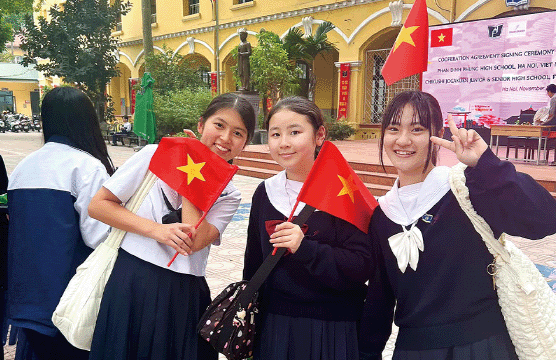 Domestic study tour
(third year of junior high)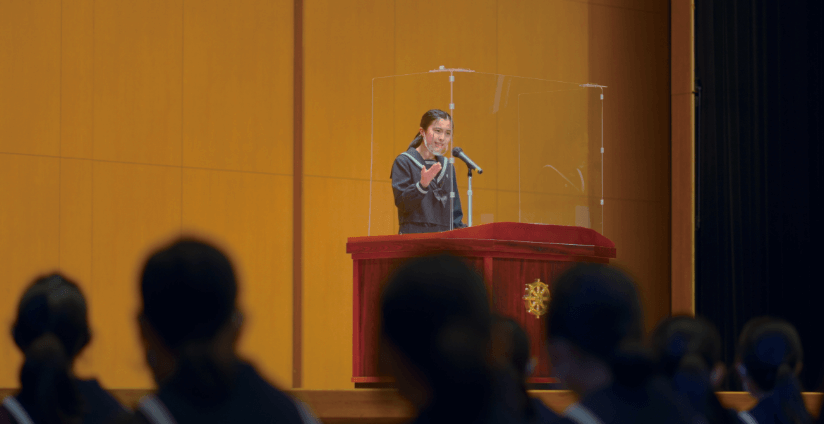 Speech/choir contest
(junior high)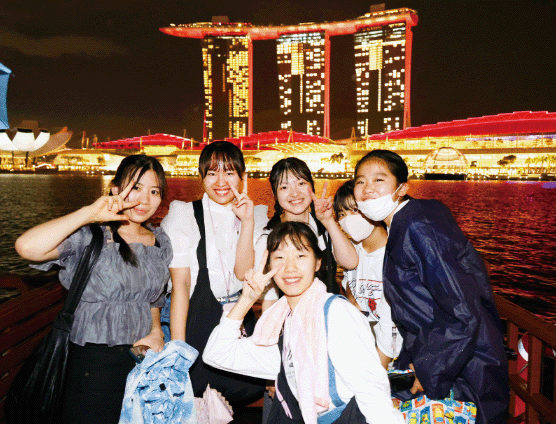 School trip
(second year of senior high)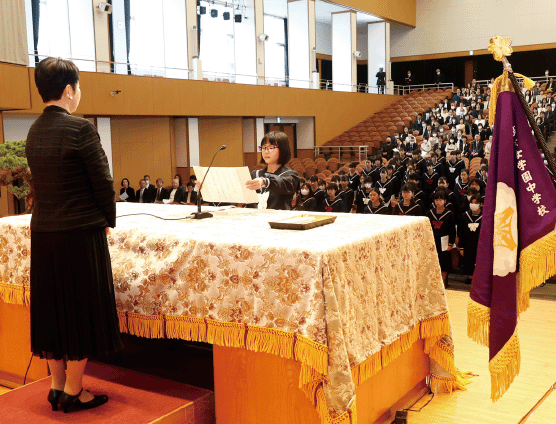 Graduation ceremony
Click here to see student daily activities.
School life and campus activities at Chikushi Jogakuen can also be seen in online videos and on social media.
#CHIKUJO LIFE
Instagram
Official Instagram

School facilities
A pleasant learning environment with lush natural surroundings and advanced facilities
The school provides a tranquil learning environment with rich natural surroundings, despite being located in downtown Fukuoka. Particular attention given to the quality of learning allows for a fulfilling school experience with facilities catering to both concentration and downtime.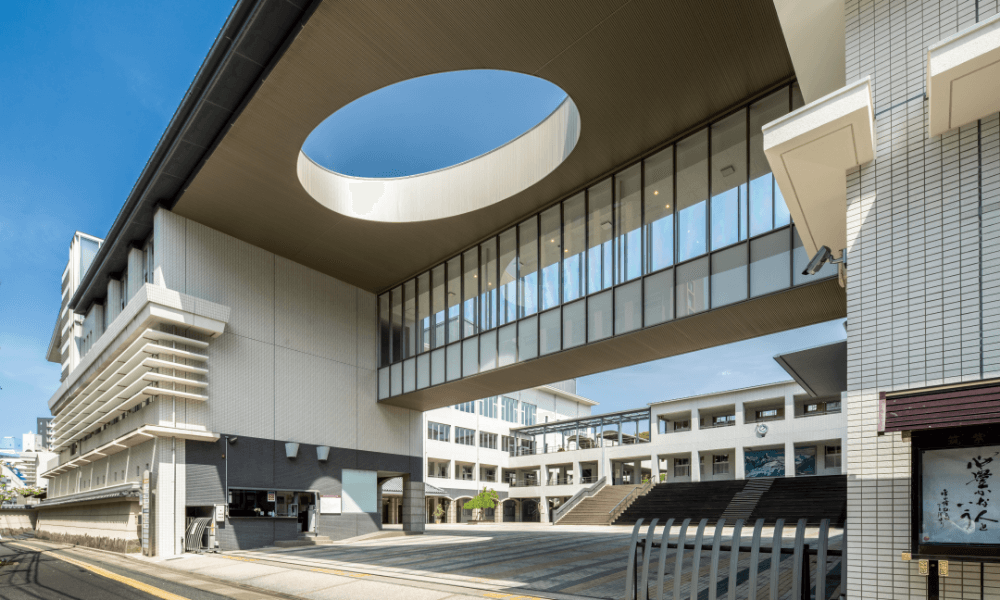 Front gate
The glass-walled aerial corridor creates an open atmosphere.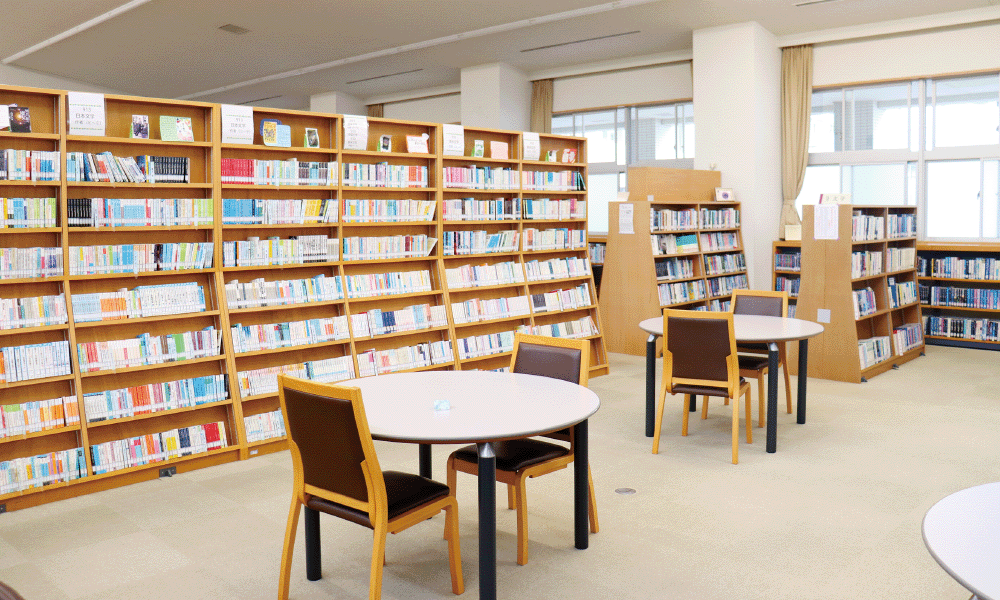 Library (2F/3F)
The library has a large number of dictionaries and higher-education resources.(60,000+ books)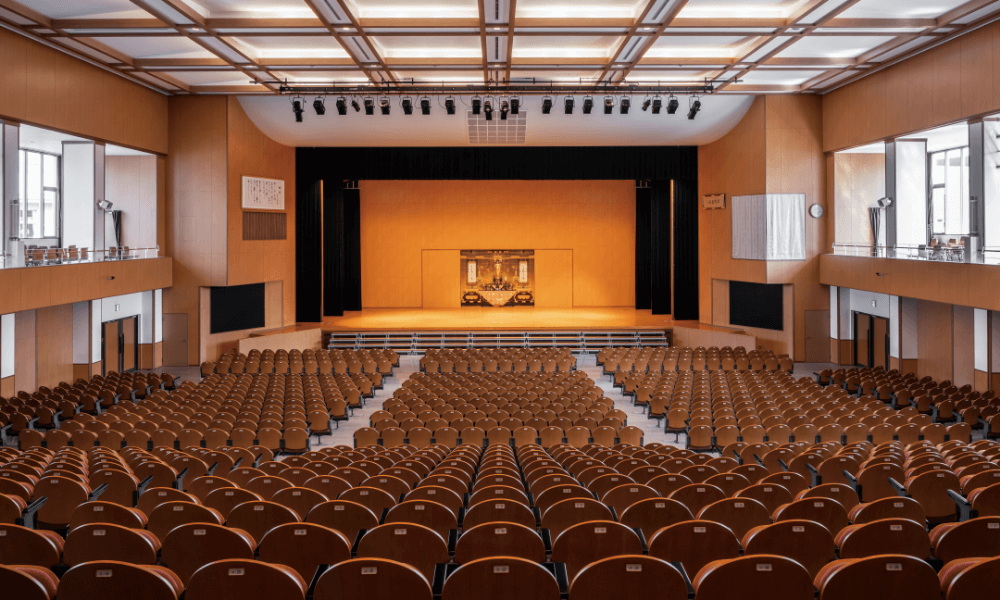 Lecture hall
The hall has superior acoustics.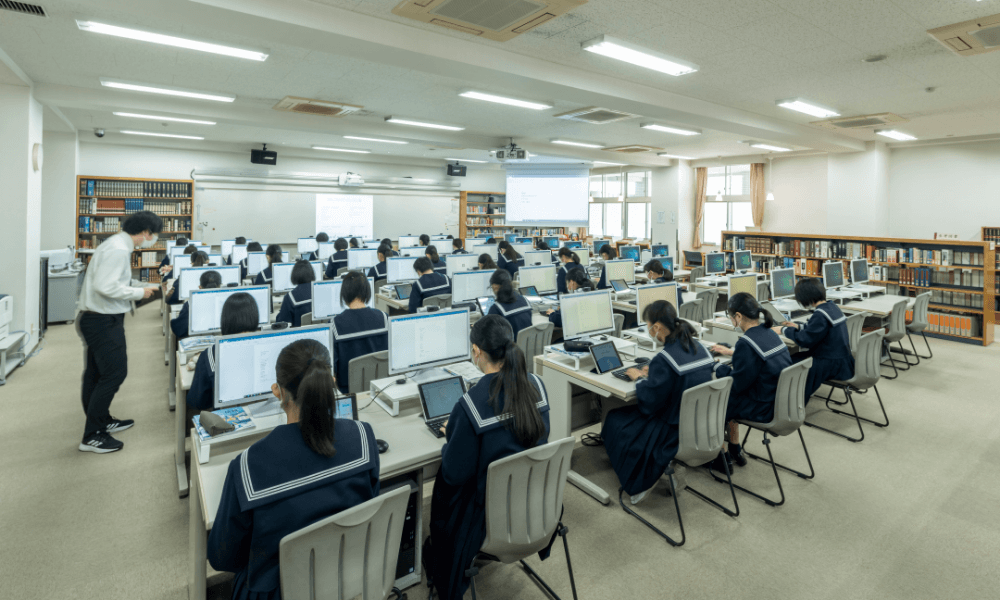 Study rooms
The PC and CALL rooms are equipped with around 150 PCs.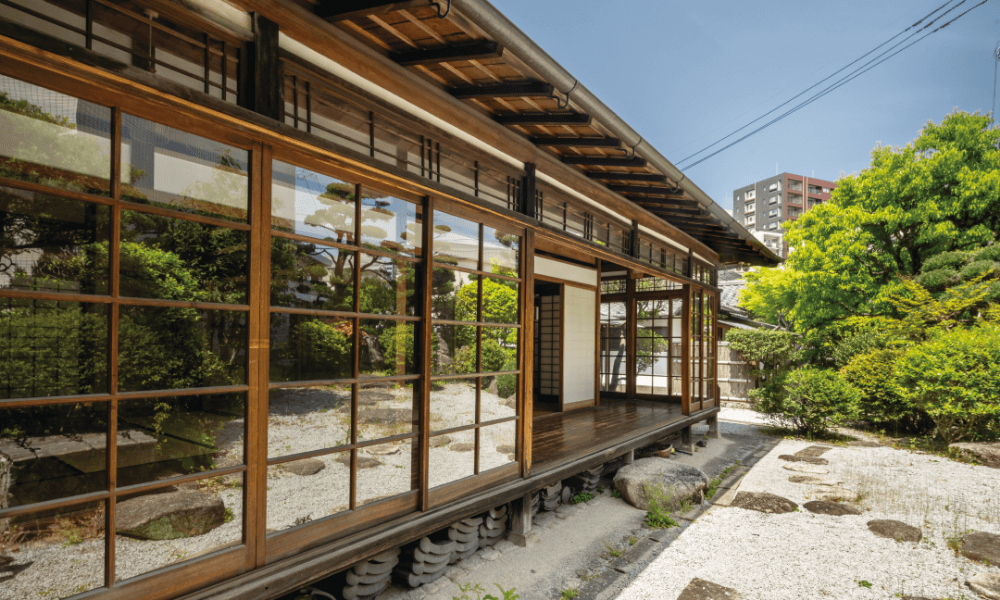 Tea ceremony room (Senshin-an/Kofutei)
This tea ceremony room has been designated as a Tangible Cultural Asset by the national government.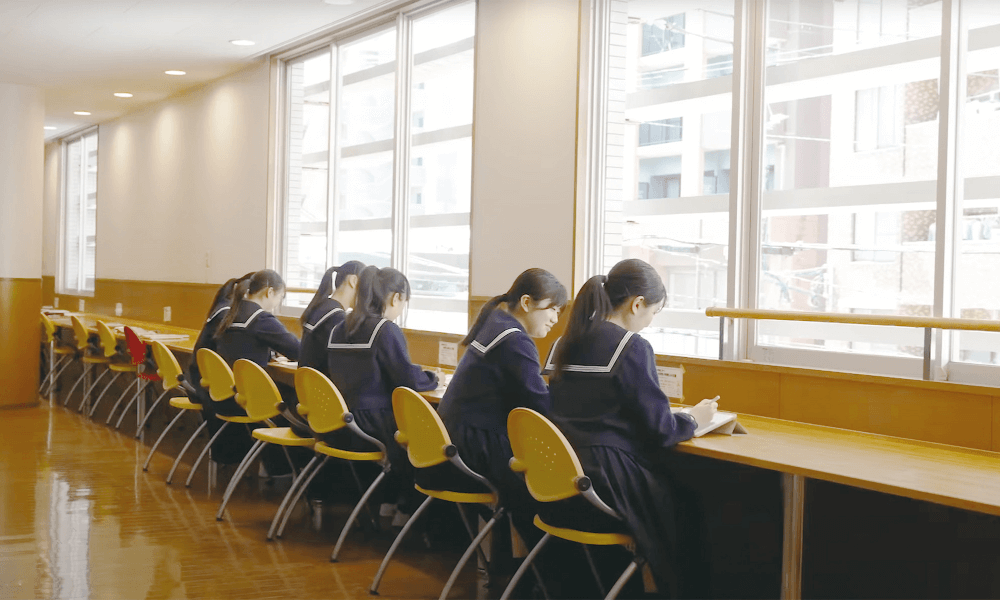 Workspace
A space where students can casually ask questions to teachers.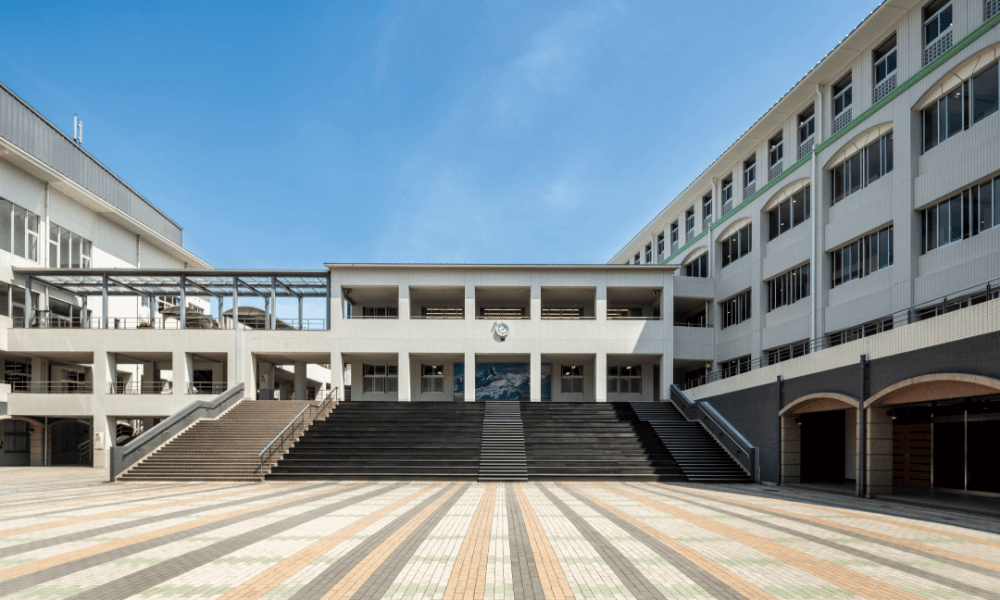 Central square
Also used as an outdoor theater.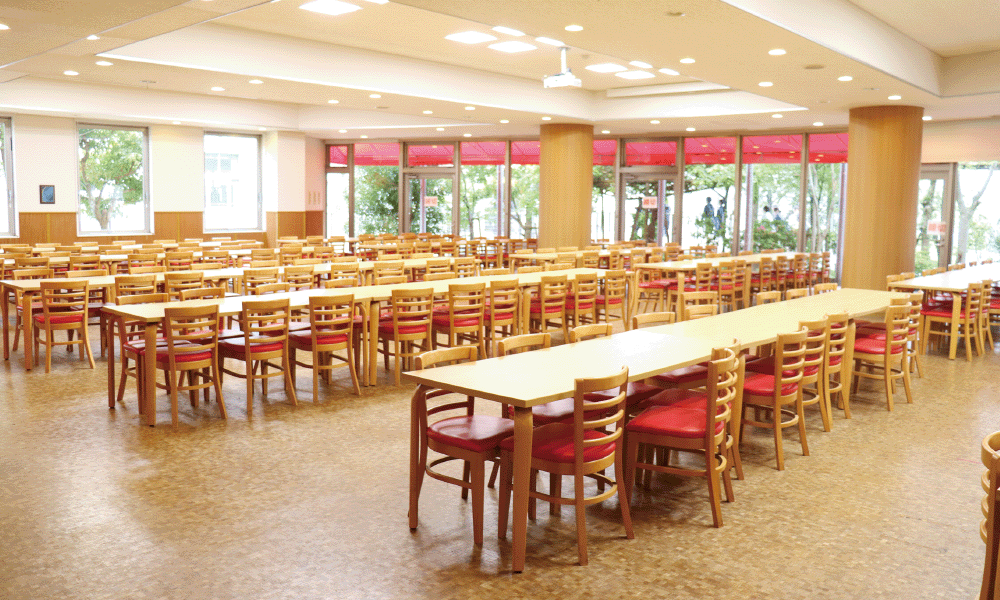 Cafeteria (in Shion-kan)
For casual Chikujo-type lunches!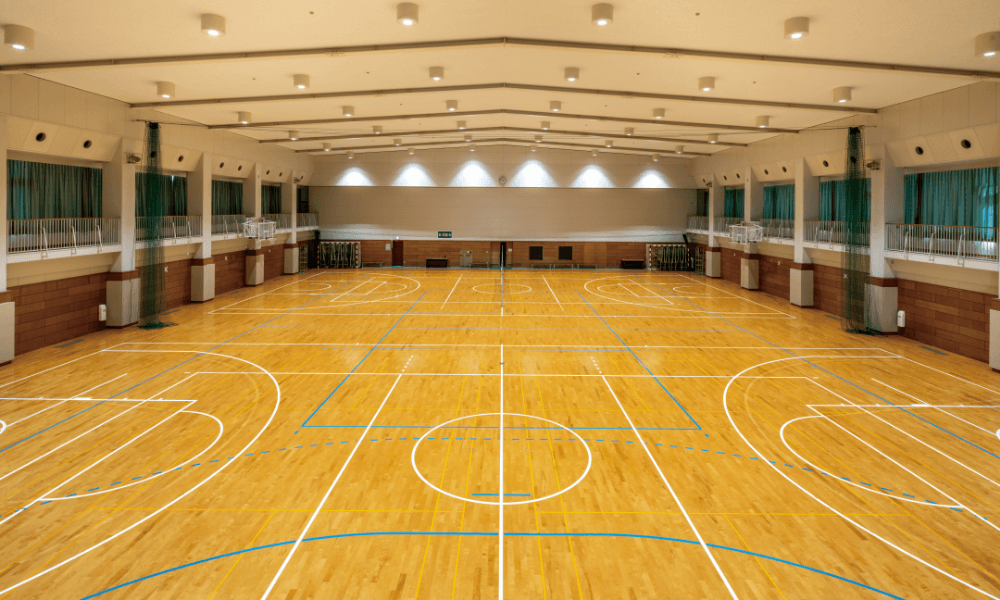 Gym
All floors are air-conditioned.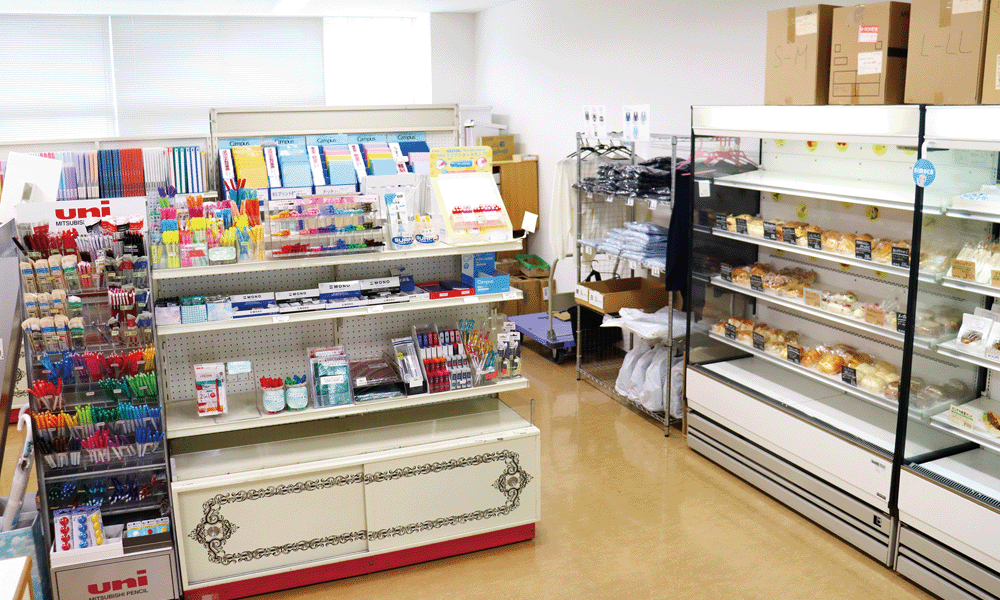 School store
Boxed lunches, bakery items and cute stationery are all available here!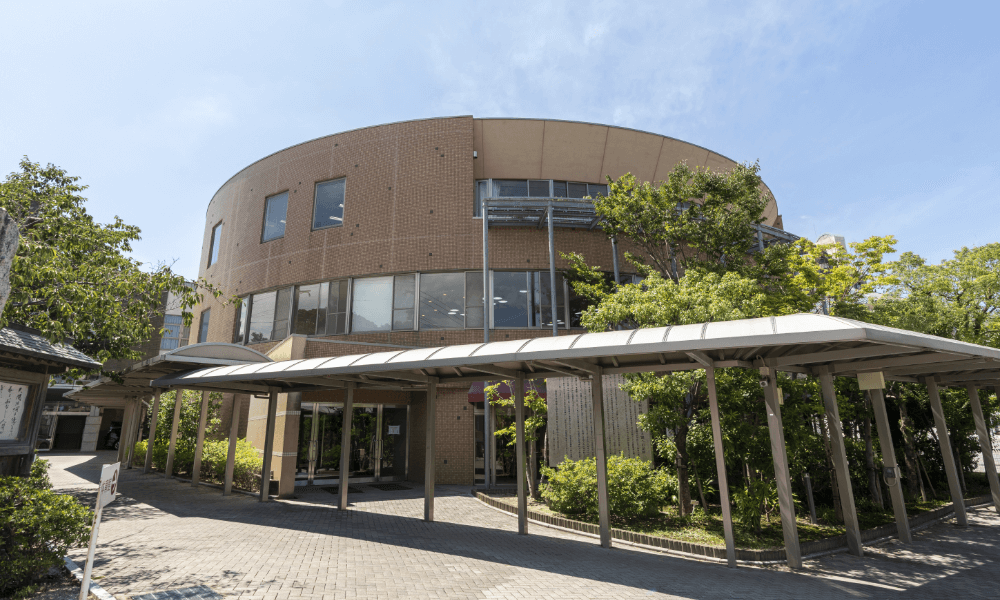 Shion-kan
This student hall was created to commemorate the school's 90th anniversary.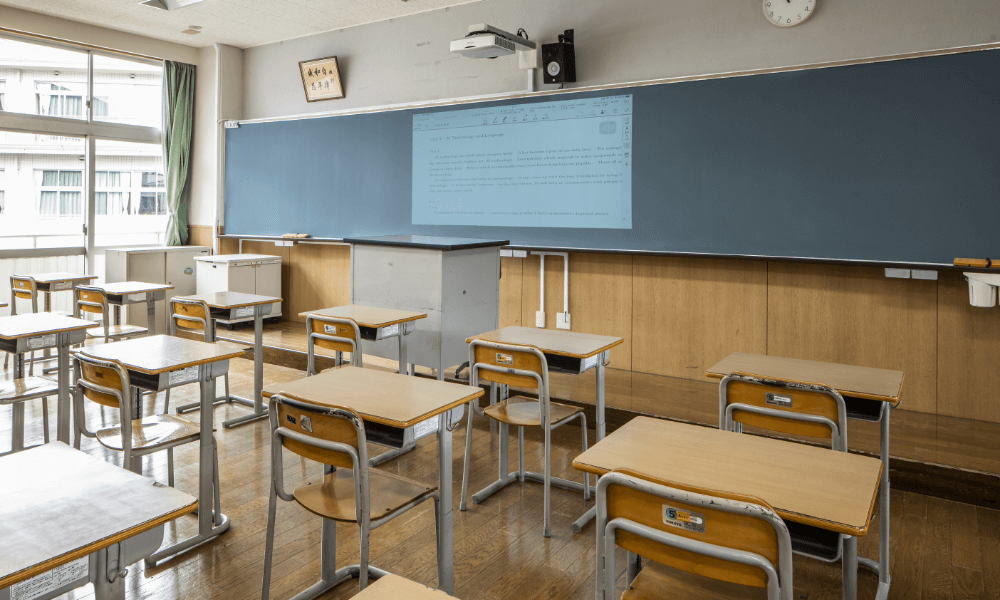 Classrooms
All classrooms have electronic blackboards.
At Chikujo, let's work together toward a brighter future